KOLDING LOCAL GOVERNMENT
"Zylinc's web-based
administration portal
provides a very good overview."
The IT Consultant at Kolding local government describes how managing a Zylinc solution in the web-based administration portal is easy.
The Challenge
The city of Kolding has Denmark's 10th largest local government organization, and the city's many different departments are always busy answering phone inquiries. Every month, they get 20.000-25.000 incoming calls.
Kim Mortensen works as an IT Consultant in the local government's IT department, and he's responsible for unified communications, Skype, and Zylinc. We met with Kim at Kolding's impressive old city hall to learn more about the organization's Zylinc solution.
"On our Zylinc system, we have just over 80 phone queues with a total of almost 650 active users on them. We also have a smaller number of queues with no agents on them that we primarily use for transferring calls to mobiles," says Kim.
"The numbers of inquiries that we get on the individual queues vary greatly. Last month, our central switchboard alone got almost 10.000 calls, but other departments, like the Transportation department, the Dental Care department, or the Job Center, also get several thousand calls every month. Last month, the Transportation department got more than 5.000 calls. On top of that, we have a lot of smaller departments that perhaps only get some hundred calls on their queues every month, but in total we handle at least 20.000 calls every month," Kim elaborates.
The Transportation department is the one that handles transport of, for example, people who are entitled to free transport to and from hospital, or children with special needs who need transport to and from school.
With all those phone queues, there could potentially be a lot of work for the person who manages the solution – that's Kim. What does he think about that?
"Well, Zylinc's very easy to work with for an administrator. I'm primarily a visually oriented person, so I think that it's great that with the Zylinc solution I can make all the configuration in a GUI. Zylinc's administration portal works really well, with its web interface. It provides a really good overview."
"Zylinc's administration portal works really well, with it's web interface. It provides a really good overview."
Kim is an experienced Zylinc administrator. Does he have any advice for other administrators who are going to work with Zylinc?
"As I mentioned, the web-based administration portal provides a very good overview. Apart from that, I've had great success with documenting the individual departments' configurations: Which queues they have, which numbers the queues are tied to, how there can be overflow from one queue to another, which audio announcements are tied to the queues, where to find the audio files, etc. Together, that makes it easy for everyone to agree on what's been delivered, and it makes it easy for everyone to maintain an overview."
"We also use wallboards on our Zylinc solution, so that everyone in a given department can watch if there are many calls building up on a queue, and which agents work on a given queue. When I set up Zylinc for a department, I always set up wallboards for the queues that have agents on them. I do that to help people get the best possible overview of their day-to-day work."
The end users – that is the individual Zylinc users in the individual departments – use Zylinc Service Center clients when they handle inquiries. That works great, and new users quickly get up to speed:
"When a department switches to Zylinc, or there's a number of new users in a department, I use about an hour on introducing them to the system. That's enough; they can easily manage after that. My experience is that they often use the same features again and again," Kim says.
The configuration of end users' Zylinc Service Center clients is controlled through profiles that Kim set up:
"I make the profiles based on a standard, for example with certain keyboard shortcuts, but I adapt them to suit individual departments' needs. For example, the Dental Care department, the Technical and Environmental Administration, or the Job Center can have slightly different requirements, but the profiles make it easy to manage in the Zylinc administration portal."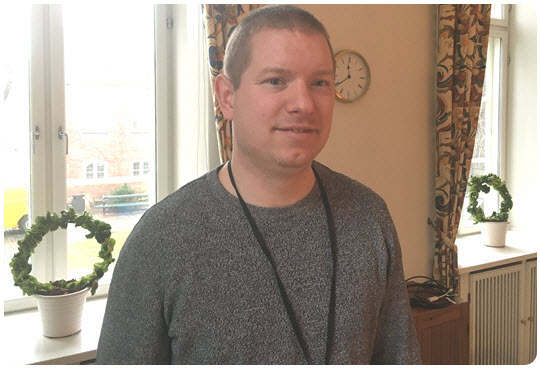 Kolding has been an important Danish city since the 12th century. These years, the city's local government works with a vision called "Together, we design life" to improve local lives through entrepreneurship, social development, education, and knowledge. Prior to establishing the vision, an extensive design process took place, involving nearly 1.000 citizens, local businesses, and organizations.
With a population of more than 90.000, a very central geographical location in Denmark, many large enterprises, and large educational institutions, Kolding's local government is a very busy organization, and their Zylinc solution contributes greatly to the city administration's ability to communicate efficiently.