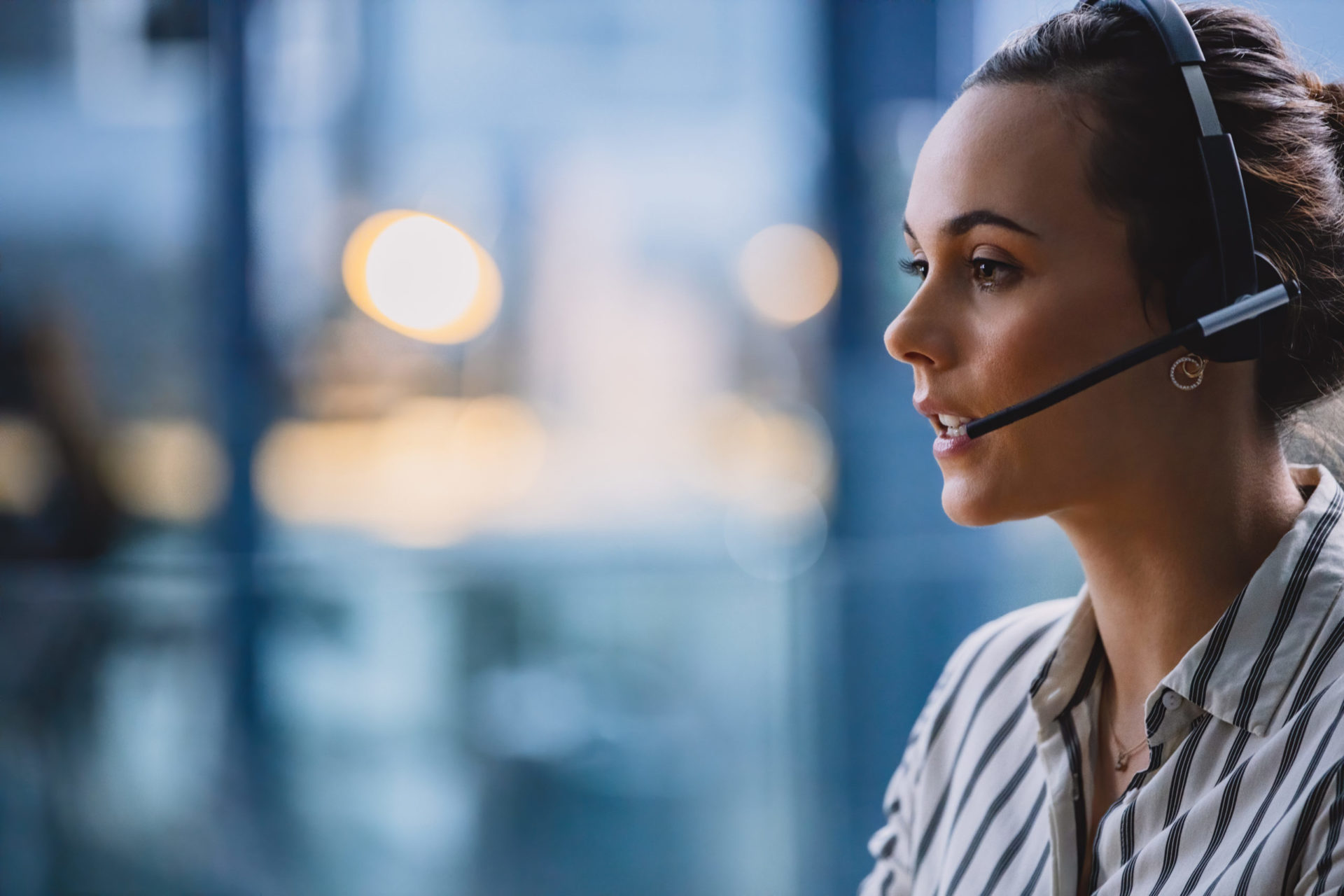 Zylinc Cloud
Your reliable customer service platform that's easy to maintain
Get ready to empower your business with Zylinc Cloud's reliable customer service platform that means you'll spend less time on maintenance and more time adding value to your business.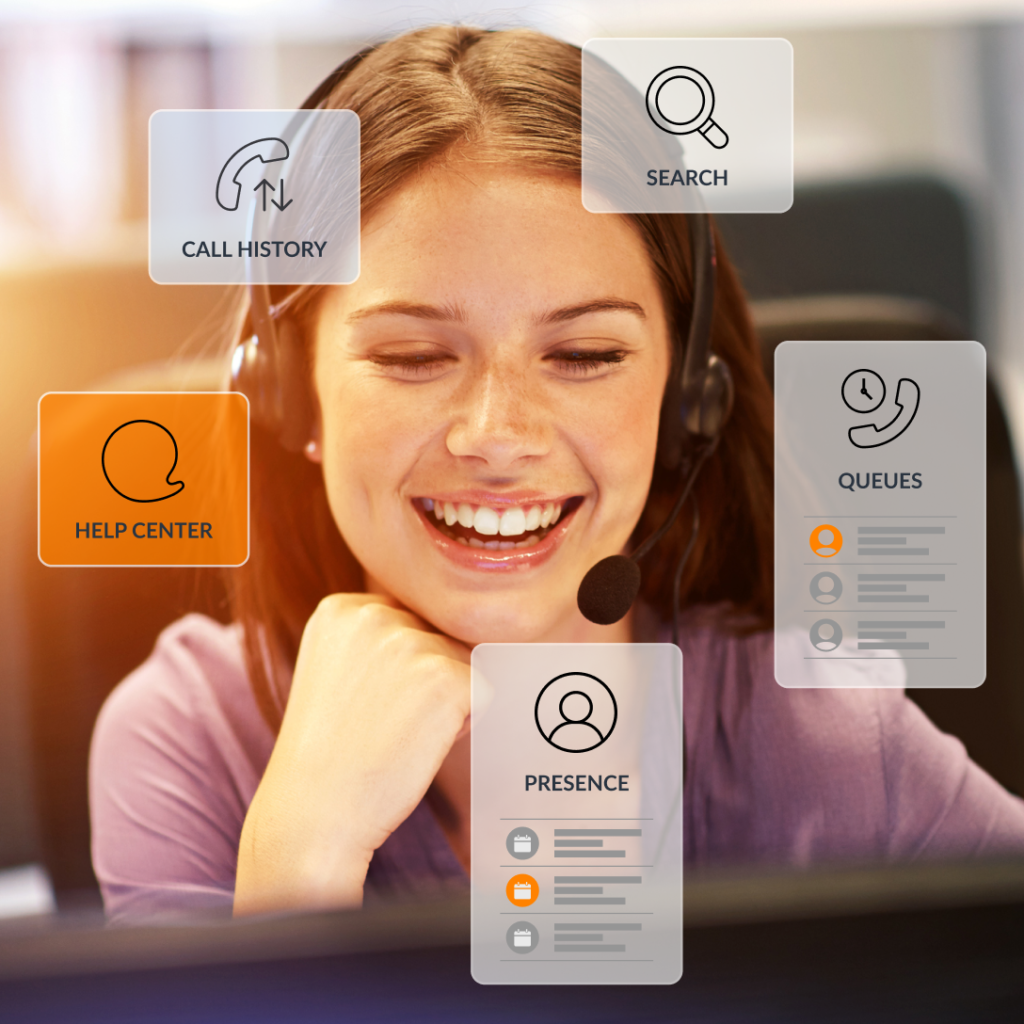 What is Zylinc Cloud?
Cloud based switchboard and contact center solutions
Zylinc Cloud is a microservices based application in Azure that helps companies of all sizes process their incoming communication. Over twenty years of switchboard know how is built into the design of Zylinc Cloud, meaning you get a user interface that provides seamless call handling, a clear overview of employee availability and optimal search.
We want to develop customer-centric products, at the cutting edge of technology and at the forefront of market trends

Ninet Richardt, Head of Product Management, Zylinc
The basics
How do I get started with Zylinc?
Zylinc is flexible, so you can pick and choose a solution that works for you.

1. Base Solution
With Zylinc Tenant license you configure your solution to fit your needs.

2. Agent Types
Select the agent types relevant for your organization.

3. Customize
Add integrations and other functionality.
Tenant & configuration
The foundation of your solution
The tenant license offers administrators the possibility to access the configuration manager web application, where the solution can be configured to fit the customer's needs for a unique call-handling solution. The main tenant features:
Directory import and synchronization
Queue features
IVR menu
Agent groups
Agent configuration
SIP trunk configuration
Statistics
Wallboards
GDPR tool
URL integration
A tenant will always be part of the Zylinc Cloud solution, for the administrator to configure the solution.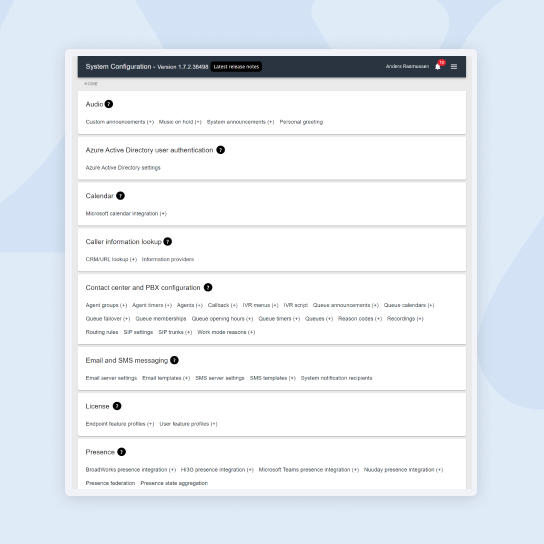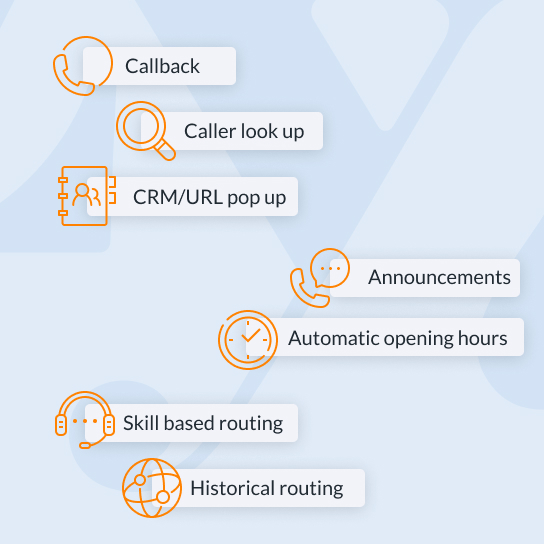 Voice queues & IVR
Build a call flow for your business
The tenant includes configuration of voice queues & IVR's, where you can customise the settings to meet your business service goals. The main voice queue and IVR features:
Callback
Digit collect
Caller look up
CRM/URL pop up
Announcements
Automatic opening hours
Skill based routing
Open API
Historical routing
Voice queues & IVR is part of the tenant license and will always be provided.
Choose your agent profile
Select agent profiles depending on your organizational needs.
Voice Agent
Get easy call handling and colleague overview
Pass calls around your organisation, monitor queues, and get an overview of which colleagues are available on mobile, telephone or soft phone. Access to Voice Agent is though both web and mobile applications.
 
For who?
Users that monitor queues and receive high volumes of incoming calls, that need to search the entire organization and transfer calls to the right people.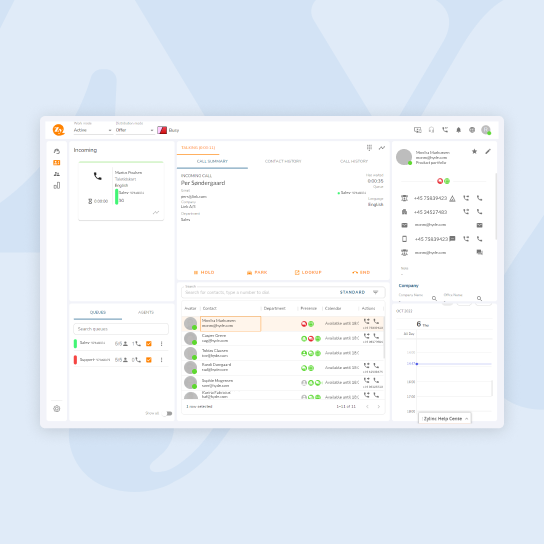 Simple Agent
Make anyone an agent
Simple Agent allows anyone to become an agent on a queue via mobile, telephone or soft phone. It also includes a callback feature to automatically call back the customer when the agent is free.
 
For who?
Secondary agents, remote workers, staff in warehouses or anyone who wants queuing functionality on their incoming calls, without having to transfer them or use an application to handle calls.

Important note:
Simple Agent does not support transferring calls.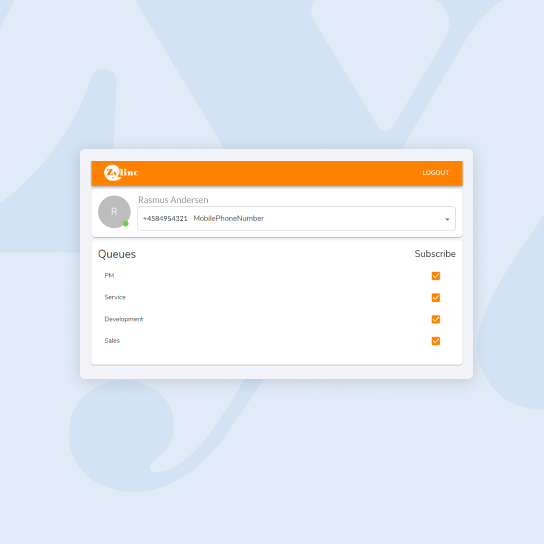 Supervisor Agent
Monitor company performance
Understand your company's performance when it comes to call volume and time spans regarding queues, agents and how they're working. You can also drill down on key parameters to gain further performance insights. Supervisor Agent allows the supervisor to monitor other agents on the tenant.

Features include:
– Alter work mode and state
– Control agent queue permissions
– Listen in
– Barge in
– Whisper
– Statistics across agents
 
For who?
Supervisors, managers, and company owners who are interested in monitoring the company's customer service level and the individual performance of specific agents.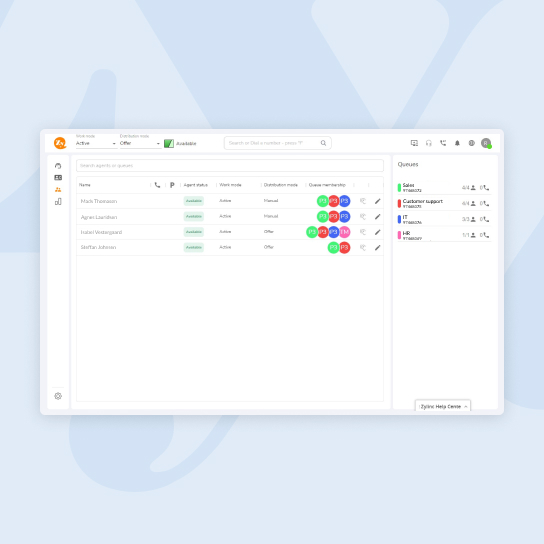 Want more details?
Zylinc Help Center
Always help at hand
Zylinc Cloud is simple and intuitive making onboarding new employees and updating current users easy.
The built in help center is embedded in the interface so you'll always be able to find the help you need, when you need it including:
Release notes
User guides – both interactive and static
Feature descriptions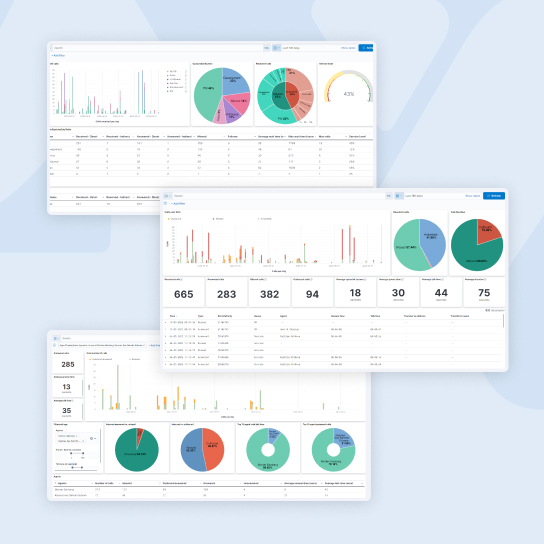 Statistics
See the results!
We offer a variety of dashboards that illustrate your company's performance across the entire tenant. Using Elasticsearch you can drill down on specific dates and calls to understand the "how and why" of your company's current performance. Our dashboards cover:
The entire tenant
Queues
Agents
Work mode reasons
Call reasons
Messaging
Take a deep dive into your data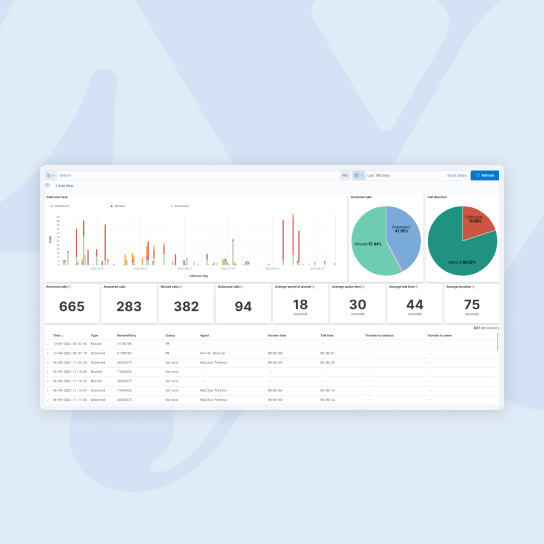 Activity data
This dashboard displays overall call statistics for the tenant, including all inbound and outbound communication for all queues. You can, for instance, easily identify high load on the queues.

Metrics include: average queue time, talk time, call duration and speed of answer. Furthermore, a full call log for the chosen period is provided.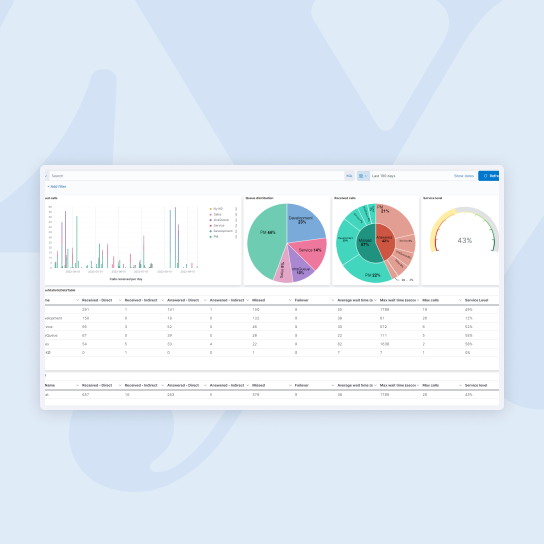 Queue statistics
This dashboard is a more detailed view of the tenant's call data, with specific call data for each queue. Here you can track the service level for each queue and easily identify high load.

Metrics include: number of calls received directly or indirectly, average waiting time, maximum waiting time, maximum calls in queue.
__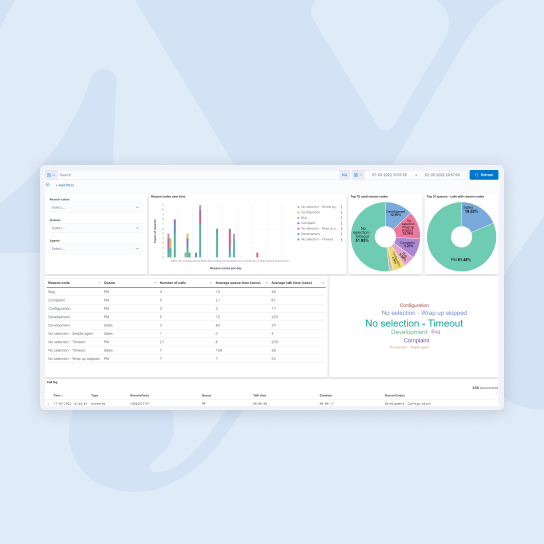 Call reason codes
This dashboard is a detailed view of the tenant's call data, where call data is grouped under a specific 'call reason code' chosen by the agent for each call.

Statistics for each 'reason code' e.g. "complaint" during a specific time period will be shown, with metrics about which queues it has been applied to, the number of calls, the average queue time and average talk time.
Call overview statistics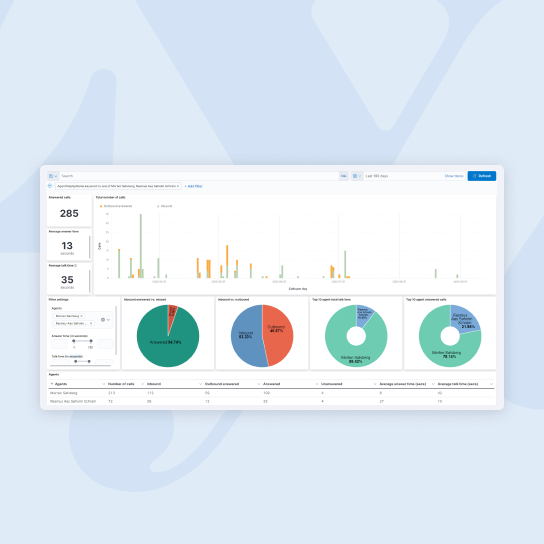 Agent statistics & supervisor agent statistics
These dashboards are a detailed view of the tenants call data per agent. A Supervisor agent can view statistics on all agents and a non-supervisor agent can only view statistics on themselves.

The overall agent performance can be displayed along with the main metrics including number of calls handled, average answer time and average talk time.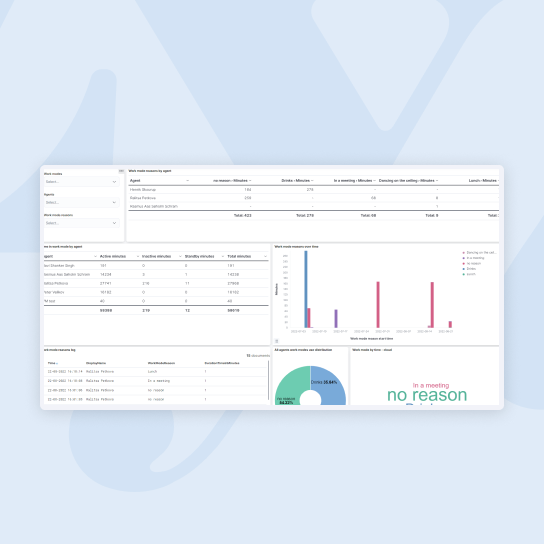 Work modes statistics
This dashboard is a detailed view of the tenant's agent state data where each agent's work state and associated inactive work mode codes are displayed.

A timeline for the different agent work modes is available. Furthermore, metrics for each agent's active minutes, inactive minutes, standby minutes and total time logged on are provided.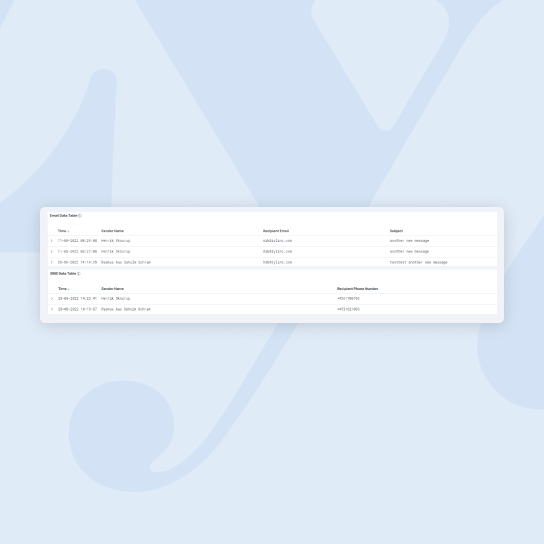 Messaging data log
This dashboard shows a list of all email and SMS messages that have been sent out from the tenants Zylinc Cloud services and details including info about sender, recipient and subject and content of the messages.
Wallboards
Compare your performance in real time!
To support your agents, we provide wallboards that show your current performance. Wallboards cover your SLA, calls in queue, agent availability and the agents currently staffing the queue, along with other data points. Wallboards is part of the tenant license and will always be provided.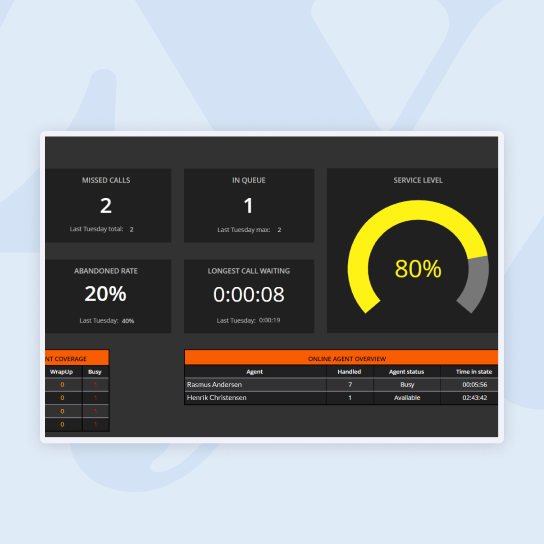 Add ons
Take your solution further
Enrich and customize your solution with add on functionality that can either be set on user or tenant level.
User level
Salesforce App Integration for quick customer overview that optimizes every agent's workflow
Call Handling API that allows for partial integration of Zylinc Call handling into CRM systems – such as ServiceNow
Tenant level
NPS Survey that allows for surveying the customer, and presenting the results in both dashboard and the agent call card when the customer calls again
PowerBI integration, in order to export all our call data to PowerBI for more customizable reports and dashboards
Call Recording storage up to 2 years before deletion.
Stay tuned for more!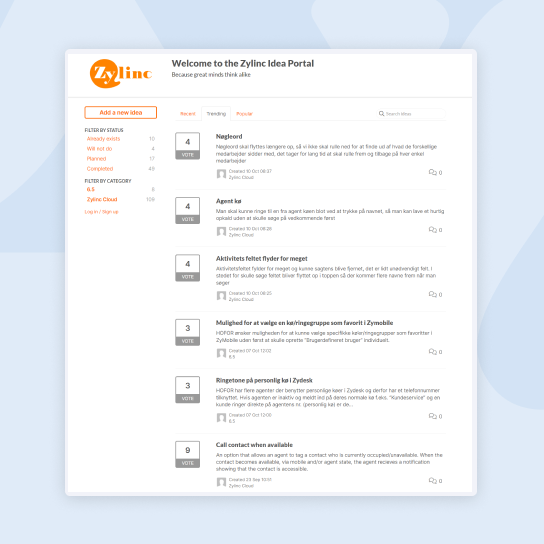 The Ideas Portal
Your voice counts
We always listen to your feedback. In fact, 50% of new features are directly based on customer feedback via Zylinc's Ideas Portal. This is a direct line from our users to our development where you can suggest ideas to improve the client.
We have weekly meetings to assess your ideas and users will always be informed if your idea will become a part of Zylinc's roadmap.
Inside the Ideas Portal you get the opportunity to
Filter your ideas
Vote on ideas
Create new ideas
Follow others ideas
Get notifications when the status changes
Direct contact to the product management team
Have a dialogue with Zylinc to fully express your needs
Got an idea for Zylinc Cloud?
Data protection
Data in Zylinc Cloud is being processed in accordance with the European General Data Protection Regulation (GDPR) and is processed subject to a Data Processing Agreement (DPA) between the end-customer of Zylinc and Zylinc based on the official EU-approved template issued by the Danish Data Protection Agency ("Datatilsynet").
Our partners are ready to assist
Looking for the right solution for you?
Looking for the right solution for you?
Want to know more about how Zylinc can improve your switchboard service?